Modular D-I-Y Guide to solve your problems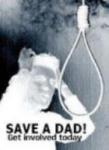 Prepare for war! Hard-earned common sense advice on what to do and what not to do before, during and after divorce.


Children's Act, Maintenance Act, Divorce Act, Domestic Violence Act, Hague Convention, etc. Know the Law to know your Rights!


Pro forma for you to adapt to your unique situation. This Plan is a legal requirement before any divorce can be granted where there are minors involved, and covers all important aspects regarding who does what, when, etc. Details often overlook


This module deals specifically with the rights of unmarried fathers and how to go about obtaining and enforcing those rights.


Do not get screwed by unscrupulous lawyers and the system. Get to know how the system operates and use it to your best advantage.

Do's and dont's. Remember, all divorces where there are minors involved MUST go through them. Know what they can do for you and how you should approach them.


How to effectively handle this scourge.


How to deal with false allegations of domestic violence, abuse, child molestation, etc.


How to oppose or accommodate.


How not to get caught with or get out of unaffordable amounts. Let us show you the calculations.


What you've just been through is easy...what lies ahead is difficult. How to deal with kids and an ex, while rebuilding your own life. Advice on how to make co-parenting work.